Drop Down Ladder for Emergency Escape
Dispatched same day for next day delivery if ordered before 1pm.
In an emergency such as fire, this permanently fixed ladder changes from a slim drainpipe like unit into a safe and sturdy means of escape. Pull out the lock pin and the ladder will fold out and transform into an easy to use solid ladder.
Drop Down ladders should be fitted as close to escape window as possible. A connection kit including all drill bits, fixing kits, bolts and plugs are included with each ladder.
Free delivery
Compliant to BS EN 131-2
Maximum overall loading 450kg
Drainpipe like unit
Fixings included
Installation
After unpacking, sections of ladder can be joined together for longer lengths.

Additional Rungs need to be added where two sections are joined.

Measure 400mm from the floor to bottom of ladder.

Measure the overall height of the ladder from your mark.

Drill a hole 60mm deep and fix an alignment bolt 50mm from the top of the ladder.

Support the ladder on the alignment bolt, this will allow the ladder to self plumb.

Punch the position of each wall bracket hole. Brackets can be moved on ladder if required.

Remove ladder and drill pilot holes 80mm deep with 8mm drill provided.

Enlarge holes with 12mm drill provided.

Fit wall plugs into holes.

Rehang ladder on alignment bolt.

Bolt ladder to wall.

Use spacers behind bracket on uneven walls.
Check drop down operation of the ladder.

Every release section is locked with a lock pin, which is pulled in an emergency.
The pins are out of reach of unauthorised access from the ground and are shaped specifically to avoid tampering.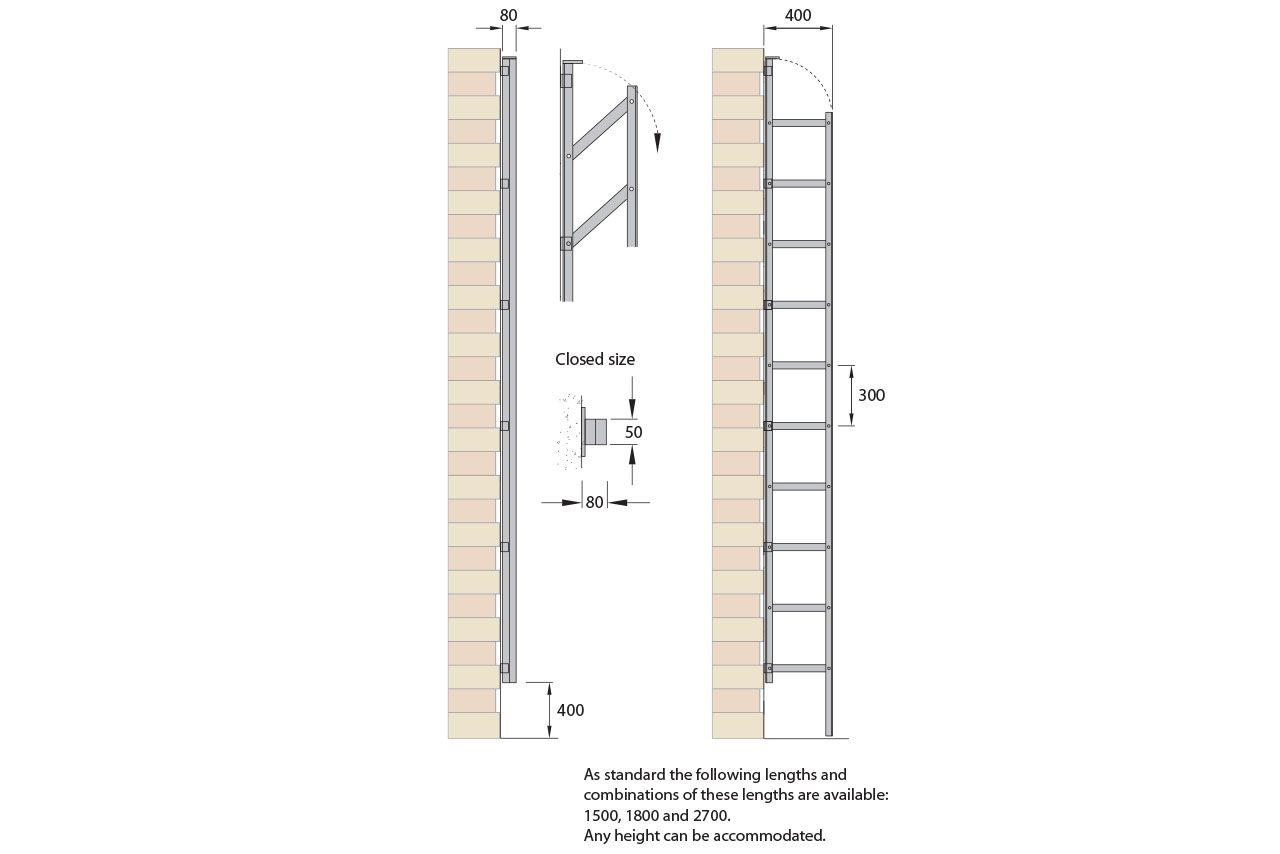 Processor
Description
If you wish to return a standard stock item, simply send it back to us and you will be refunded providing it is received in perfect condition, 100% complete, unused and includes packaging.
Clockspeed
Dispatched same day for next working day (Mon-Fri) if ordered before 1pm. Free delivery to mainland UK.