Thermally Broken Roof Access Hatch
10% DISCOUNT USE SRHP25 AT CHECKOUT

PLEASE NOTE: Current Lead time is 5 - 7 Working Days

Surespan SRHP25 Aluminium access hatch incorporating a full 25mm thermally broken composite lid and upstand. The single leaf roof access hatch is complete with gas spring assisted opening to ensure the minimum of effort to open the double skinned aluminium lid.
Specification
The thermally broken lid incorporates an unbroken bubble and blade seal. Insulation comprises a sandwich of 25mm thick CFC and HCFC free Polyisocyanurate insulation which offers a U-Value of 0.78W/m²K to BS3958: Part 5: 1986. Note: Alternative no cost option for Non-combustible mineral wool installation rated at 1.14W/m²K for lid and upstand.
The hatch also incorporates a secure Stay Hold stay arm with smooth manual closing using grip handle to prevent against accidental closure.
The standard height 300mm upstand is filled with 25mm thick CFC and HCFC insulation. Aluminium curb liner fitted as standard.
Section View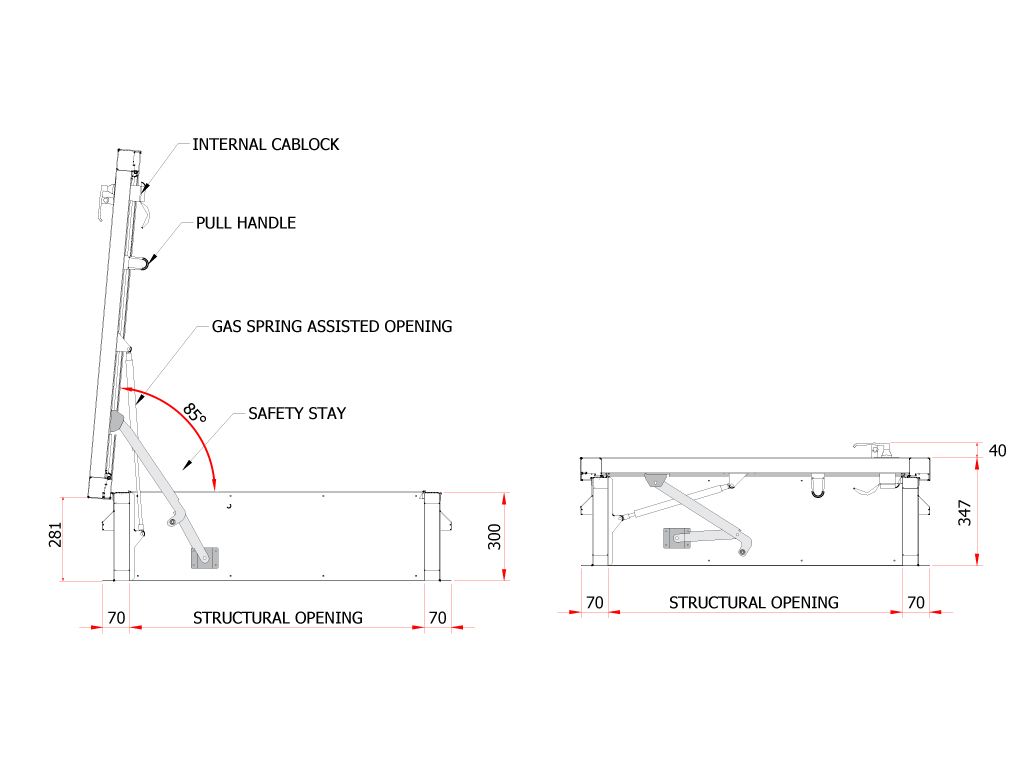 Dimensions
Structural Opening
(LxW)
Overall Size
Inc. Fixing Flange
Weight
Price
600 x 600
740 x 740
28kg
£650.00
750 x 750
890 x 890
34kg
£675.00
750 x 900
890 x 1040
38kg
£675.00
900 x 900
1040 x 1040
42kg
£725.00
1000 x 1000
1140 x 1140
47kg
£950.00
1350 x 750
1490 x 890
49kg
£1020.00
Memory
test 5
Internal Cablock
test 8
Cover and frame 2mm aluminium with a full 25mm thermally broken composite lid and upstand.
Processor
Description
If you wish to return a standard stock item, simply send it back to us and you will be refunded providing it is received in perfect condition, 100% complete, unused and includes packaging.
Clockspeed
Dispatched within 5 -7 working days. Free delivery to mainland UK.